Races usually begin with a pilot's brief. We explain the contest rules and procedures and emphasize safety. We also discuss race strategies and cross country technique. We have experienced pilots who are always happy to take the time to answer your questions. (We all benefit by having more people involved.)
A few good resources:
The SSA has a good guide in the SSA Guide to Soaring Competition.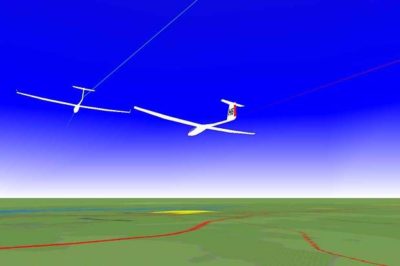 We race with 2 Classes: A Class for Experienced racers and B Class for Novice racers, most "B" class entrants had never raced before their first GTA. You choose where you feel comfortable flying, you will get "graduated" out of B class if you win too much (the A Classers are hungry for new meat!). The B class is usually assigned closer turnpoints and/or shorter tasks, but we try to be close enough to the A Class to tag along a bit.
The GTA is based on SSA Sports Class Regional Rules. This means you can use any type of glider. The handicap system helps equalize the differences in aircraft performance. You do NOT need the latest machine or avionics to compete. For example the 12meter 1-26 has a handicap of 1.650 and it can compete against a 22meter ASW-22, which has a handicap of 0.795. If the 1-26 completes its course at 30mph it can beat the ASW-22 which did its (probably longer) course at 60mph (30mph X 1.650 = 49.5Hmph, vs. 60mph X 0.795 = 47.7Hmph).
Races are scored individually every day for 1000 points. We schedule about 25-32 race days in a season [weather only permits us about 12-25 days]. For season winners we count only the best days, so you don't have to attend all of them. Each season ends with Trophies handed out for both Classes at an Awards dinner.
Some pilots use the GTA as a stepping stone or practice for bigger competitions; others just to fly cross country with friends. Several pilots come with families who hang out together while we race; others come and rely on the rest of us to crew for them. Either way it is fun and relaxed. GTA pilots have won many regional, and national competitions, with a few representing the US in the World Competitions. Speaking of relaxing, many a fine racing day has ended around a campfire and BBQ next to the Carter's RV.
Next: see How to Join Us